Children's Bible Ministry of Connecticut, U.S.A.
Moses: A Hero of Faith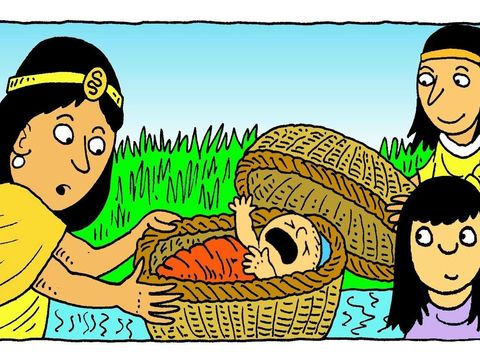 Rescued as a baby from the King's command through the faith of his mother, Moses grew up in the palace of the King of Egypt. Moses was taught in all the wisdom of the Egyptians. We are told that he was might in words and deed. No doubt he would have been in line to become rulers of Egypt, being the adopted son of Pharaoh's daughter.
But alas, Moses through the eye of faith saw something better. By faith Moses, when he became of age, refused to be called the son of Pharaoh's daughter, choosing rather to suffer affliction with the people of God than to enjoy the passing pleasures of sin, esteeming the reproach of Christ greater riches than the treasures in Egypt . . . (see Hebrews 11:24-27). Moses by faith chose God and His Word and His people even if it meant inconvenience and hardship and suffering and possibly death. What will it profit a man if he gains the whole world, and loses his own soul? Mark 8:36. The pleasures and promises of the world are temporary, often bringing quick, immediate pleasure, but sorrow and suffering in the end. The world is passing away, and the lust of it; but he who does the will of God abides forever (1 John 2:17). Seek first the kingdom of God and His righteousness, and all these things shall be added to you (Matthew 6:33). Moses saw beyond the present the goodness and eternal blessing of God. You cannot put God first and lose.
By faith Moses kept the Passover, putting the blood of a lamb on the door of his house, as God commanded, lest the angel of death should destroy his firstborn.
By faith Moses lifted his rod, as God commanded, for the parting of the Red Sea and walked across on dry ground. By faith he brought down the waters on the pursuing Egyptian army. Moses saw beyond the present trouble and danger to the deliverance of Almighty God.
Without faith it is impossible to please God for he that comes to God must believe that He is, and that He is a rewarder of them that diligently seek Him (Hebrews 11:6). Faith is taking hold of the invisible. Faith takes hold of God through His Word. Faith is believing God, believing that what God says He will do.
Have faith in God!
pictures are courtesy of freebibleimages.org
---
If I can be of help to you in knowing the Lord
or if you would like to write me a note write to: